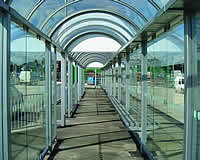 products >>
Handrails, Barriers, Balustrades & Seating
From pavement to public building access Citadel can provide the answer when there is a requirement for barriers, handrails and balustrades.
For general roadside barriers, around crossing points and public transport stops we can provide galvanised and powder coated fencing panels in standard or special sizes and also cater for slopes and angles.



Handrails for fencing and slopes, especially with the disabled requirement in mind can be provided in a galvanised, powder coated or stainless steel finish.

Internal and external barriers for slopes, stairways, walkways and wall mounted units are designed and man-ufactured in a wide range of materials styles and finishes. Whether its traditional wrought iron or stainless steel and glass, Citadel can design, manufacture and fit to your requirements.



To complement these we also manufacture seating, bollards, gates and security doors.

No matter how large or small the project Citadel will provide a quality solution.